Curtin: A fighter for the underdog
Dr Caryn Coatney considers behind-the-scenes accounts of some of Curtin's most trusted confidants. They reveal personal glimpses into his political career, from being a champion of the working-class press to becoming the prime minister. His media mastery elicited more Australians' support for nearly one million citizens serving in the Second World War.
John Curtin's destiny was tied to the forces of the rapidly expanding media industry. When "Jack Curtin" was a cash-strapped Brunswick boy, he developed journalism skills that would help him to generate reporters' support during his three decades of tumultuous election campaigning. Curtin became the Australian Labor Party prime minister on 7 October 1941 in a simple ceremony when major forces converged, with the escalation of Pacific conflicts and the rise of mass broadcasting involving citizens in a battle for democracy. His long-term friendships with journalists contributed to his decision to initiate the first regular confidential conferences with the Canberra Parliamentary Press Gallery about wartime secrets. Although his media legacy has been largely forgotten, he opened more public glimpses into democratic governance during the Second World War. 
Journalists knew Curtin as a former hard-hitting journalist, but he privately rehearsed broadcasting techniques to develop a press reputation as "a fighter for the underdog" (Mr. Curtin …, 1941, p. 2). He expanded the prime minister's radio chats to not only enhance his power, but also help enlist Australians' support for more than 993,000 citizens serving in the war. Australia's military service was among the highest per capita of the Allied democracies (Coatney, 2011). Yet Curtin had developed a reputation for giving crowd-pleasing speeches when he had been an anti-conscription activist in the First World War. By his early 30s, he generated news reports of his ability to attract thousands of cheering people to his speeches at Yarra Bank, Victoria (e.g., Labor Call, 5 November 1914, 14 September 1916; Sun, 11 February 1917).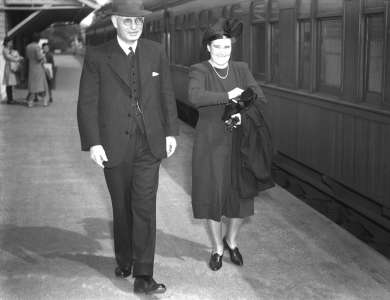 Fairfax/Harry Martin
Curtin sailed from Victoria to become a labour-oriented newspaper editor in Perth, Western Australia in February 1917. During the voyage, he wrote to his bride-to-be, Elsie Needham, "I felt too much like crying to be comfortable" about leaving Victoria (Letter …, 1917). They married some two months later in the Perth dining room of a justice of the peace. Curtin, in a neat suit and tie, continued his political activism at his Westralian Worker newspaper office as Australia entered a fourth year of military involvement in World War I (Shea, 1995).
Within the first few months of Curtin's role, one of the newspaper's office assistants gave a story tip about her boss to the rival Sunday Times editor, Victor Courtney. As the assistant recounted to Courtney, she was startled to hear Curtin working in his upper-level office one night. She was returning to collect a forgotten parcel downstairs and overheard him shouting aloud one of his prepared speeches (Courtney, 1982). The private rehearsals helped Curtin to develop his editor's role into regular speaking appointments. He persuaded Elsie Curtin to move their children, nicknamed "Young Elsie" and "Young John", into a house with a winding veranda that would allow him to pace as he prepared his speeches (Curtin, 1951; Curtin, 2004; Macleod; 1994-1995). 
Tall and athletic, Curtin gained the Westralian Worker news team's respect for his soft management style. His gentleness impressed one of the workers, Arthur Prickett, a 14-year-old apprentice and English-born orphan. According to Prickett, the composing room foreman was a bully until Curtin "put him in his place." When Prickett was about to marry in 1937, he invited Curtin to his wedding. By then, Curtin had become the Federal Opposition leader, but he returned to Perth to deliver a speech representing Prickett's family at the ceremony (Prickett, 1998). He combined his newspaper writing with political campaigning for the seat of Fremantle, which he won in 1928, lost in 1931, and narrowly regained in 1934. He retained the seat during his prime ministership until his death on 5 July 1945, several weeks before the war's conclusion. 
According to journalists, Curtin's voice grew raspier during his political career, but it remained compelling as the prime minister. A Time magazine correspondent reported, "Oldtimers say that his voice once had the 'haunting timbre of measured strokes on a Chinese gong.' Today, it is much harsher, but no less effective" ("Journey …," 1944, p. 29). As Curtin expanded Australian radio talks, he relied on Don Rodgers, the first full-time prime ministerial press secretary, to time his radio scripts exactly for public broadcasting (Joyce, 1997; Rodgers, 1971). A West Australian journalist, John Coulter, recalled that Curtin's tone "hit exactly the right note" for customers at a Perth newsagency, when they paused to listen to one of his first prime ministerial broadcasts. 
 Those of us who were there stopped to listen to it-which, you know, isn't the very Aussie thing to do. But there was a compelling quality in him that was partly because of the passion he imparted: but, above all, I think the sincerity (Coulter, 1995). 
Due to the friendships, journalists mainly agreed to self-censor Curtin's confidential prime minister's talks about wartime secrets. He privately confided to a reporter in King's Hall, Parliament House, late at night that he was about to defy Allied orders and bring back Australian troops for national defence. The reporter, Harold Cox, recalled that he was trying to send a telegram at the post office in King's Hall during that summer's evening in February 1942. Cox was surprised to see Curtin walking out of the bar lobby. Press gallery journalists understood that Curtin was a reformed alcoholic, who remained a confirmed teetotaller during his prime ministership. According to Cox, Curtin asked him: "I'm not going to get any sleep. You know what's doing, don't you?" He revealed his plans to turn back the Sixth and Seventh Australian Imperial Force Divisions from their destination to Burma. The divisions lacked adequate military supplies, as Curtin explained to Cox. When Curtin wandered across the government lobby, he exclaimed: "Harold! What would you do if you knew their equipment was on another convoy two days behind them?" (Cox, 1973). 
The divisions included a younger Perth journalist, Peter Ewing, whom Curtin had mentored as a Federal Opposition leader before the war. The troops were unaware of Curtin's secret dispute with wartime British Prime Minister Winston Churchill over the divisions' destination. Ewing recalled that during the voyage: 
The big joke was that, you know, 'where were we going?' They said it was somewhere ending in 'I', it was either Burma or Malaya or Indonesia tra la tra la and, the last one was Australia but that's where we finished up (Ewing, 1999). 
Curtin appeared relieved to Cox when they saw each other the night after their secret talk. Cox told Curtin, "You look a lot better tonight." He replied, "Yes, I feel a lot better, too. They're coming home." (Cox, 1973).
Curtin cultivated his friendships with his former associates when he would occasionally return to Perth to visit Elsie, who had decided to maintain their family home near Cottesloe beach. The brother of a one-time Westralian Worker assistant recognised the prime minister at the train station in Adelaide during one of his journeys to Perth. Wearing a soldier's uniform, the man approached Curtin to ask, "[d]o you remember me?" Curtin recognised the man as Syd Shea, whose sister, Florence, had worked in the newspaper printing room while a teenager. As they arrived in Perth in the same train carriage, they heard a crowd cheering for Curtin. According to Shea, the cheers reminded Curtin of his bitter election battles for the seat of Fremantle, which he had lost temporarily in the Great Depression of 1931. As Shea recounted, Curtin turned to the soldier and remarked, "You know Syd, would anyone ever believe that they dumped me last time?" (Shea, 1995). 
At the prime minister's office, Curtin enjoyed unexpected visits from his former acquaintances. The visits provided a break for Curtin, who would often ask his chauffeur, Ray Tracey, to play billiards in the evenings. Tracey preferred a card game of bridge, but playing billiards seemed "the least he could do," as he explained to Curtin's personal secretary, Gladys Joyce (Joyce, 1997). The visitors included a cashier who had taken his lunch order at the department store cafeteria that he frequented during his visits to Perth as the Federal Opposition leader. The cashier, Rena Leckie, had joined the Women's Auxiliary Air Force. Leckie and an air force associate visited Curtin's small ante-room at the Lodge, where he was working alone one Saturday. He asked the pair to share one of his favourite lunches, roast lamb and apple pie, at a long dining room table. Leckie used the Lodge telephone to call her mother while Curtin arranged for Tracey to drive the two servicewomen on a tour of Canberra (Leckie, 1998; Spence, 1997). Curtin extended a similar courtesy to the son of his friend, Harry Gary, who had written for the Westralian Worker. Gray's son, Syd, had become a serviceman who was visiting Canberra with his friend, also in the armed forces, before they were stationed overseas. Gray decided to phone the Lodge and he was surprised when Curtin picked up the receiver. Curtin invited the servicemen to join him on one of Tracey's chauffeured tours of Canberra. The prime minister farewelled his visitors by saying: "Look after yourselves, boys … Keep your heads down – they're [meaning the enemy] a bad lot" (Gray, 1999). 
Curtin's funeral led to the most extensive media mass mourning in Australia's history because many citizens felt they had personally known him. At street corners, the newsboys shouted breaking headlines about his death, shocking city workers. Journalists had agreed to reassure people that Curtin would recover after he had been taken to a hospital due to his heart condition. The press departed from a tradition of publishing mainly formal condolence messages about a prime minister's death. The newspaper tributes included the comments of "ordinary people" about Curtin's influence on their lives. Newsreel and radio teams cooperated to convey public representations of a dynamic prime ministership. This was the first time that Australian journalists, photographers and camera crews travelled to report on a WA funeral; in another media first, the service was broadcast across the nation. The wartime journalists perpetuated the legend of a "man of the people" by publicising "the real tributes of the common people, amongst whom John Curtin was perhaps at his happiest" (World …, 1945, p. 1). 
Caryn Coatney is the author of John Curtin: How he won over the media, Australian Scholarly Publishing, North Melbourne, 2016. 
References 
Coatney, Caryn. (2011). Curtin's circus: the prime minister and Canberra news correspondents, 1941-1945. Unpublished doctoral dissertation, Curtin University, Perth.  
Coatney, Caryn. (2015). Personalising politics in a global crisis: The media communication techniques of John Curtin and Franklin D. Roosevelt in the Pacific war, 1941-45. 
Communication, Politics & Culture, 48(1), 66-84. 
Coulter, John. (1995). Interview by Isla Macphail. John Curtin Prime Ministerial Library, JCPML00123/1. 
Courtney, Victor. (1982, 15 August). "Red rag" editor was mild man. Sunday Times. John Curtin Prime Ministerial Library, JCPML00964/201. 
Cox, Harold. (1973). Interview by Mel Pratt. John Curtin Prime Ministerial Library, JCPML01060/1. 
Curtin, Elsie. (1951, 19, 26 March). The Curtin story. Woman. John Curtin Prime Ministerial Library, JCPML00577/2 and JCPML00577/3. 
Curtin, John Francis. (2004). Interview by Heather Campbell. John Curtin Prime Ministerial Library, JCPML00855. 
Ewing, Peter. (1999). Interview by Bill Bunbury. John Curtin Prime Ministerial Library, JCPML/00492/2. 
Gray, Sydney. (1999). My memories of John Curtin. John Curtin Prime Ministerial Library, JCPML00346/1. 
Journey into the world. (1944, 24 April). Time, pp. 29-30. 
Joyce, Gladys. (1997). Interview by Isla Macphail. John Curtin Prime Ministerial Library, JCPML00210/1. 
Leckie, Rena. (1998). Interview by Isla Macphail. John Curtin Prime Ministerial Library, JCPML00308/1. 
Letter from John Curtin to Elsie Needham. (8 February 1917). John Curtin Prime Ministerial Library, JCPML00402/22. 
Macleod, Elsie. (1994-1995). Interview by Ronda Jamieson. John Curtin Prime Ministerial Library, JCPMUOOO12. 
Mr. Curtin's rapid rise on the political stage. (1941, 11 October). News, p. 2. 
Prickett, Arthur. (1998). Interview by Isla Macphail. John Curtin Prime Ministerial Library, JCPML/00291. 
Rodgers, Donald Kilgour. (1971). Interview by Mel Pratt. John Curtin Prime Ministerial Library. 
Shea, Frances. (1995). Interview by Roma Sharp. John Curtin Prime Ministerial Library, JCPML00013/1. 
Spence, Anne. (1997). Interview by Isla Macphail. John Curtin Prime Ministerial Library, JCPML00228/1. 
World joins in tribute to late PM. (1945, 6 July). The Canberra Times, p. 1.