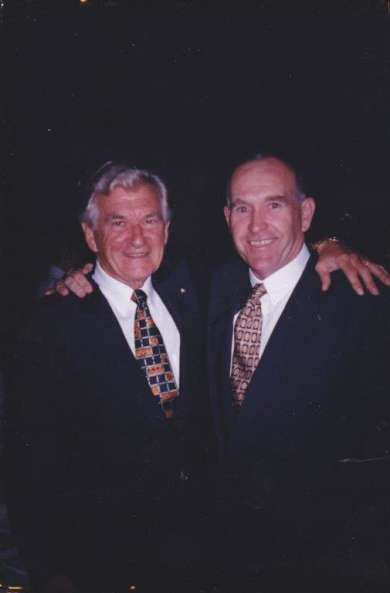 Photo: Bob Hawke (OPH Volunteer)
Bob Hawke began work at Old Parliament House as a Security Guard in 1995. In 2002 he took on a position as a Public Programs Officer, where he provided tours to thousands of visitors until his retirement in 2010.  In 2011 he returned to Old Parliament House as a Volunteer Guide.
Bob often receives comments from members of the public, after they notice the name written on his identification badge or security pass.  Generally, visitors say that they can't wait to go home to tell their family and friends that they went on a tour of Old Parliament House with Bob Hawke!  
Fellow volunteer, Joe Corcoran, recalls the first time he met Bob Hawke: "I remember when I first joined MoAD as a volunteer and went along to a social gathering to meet the other guides.  This chap came up to me and said 'G'day – my name's Bob Hawke.'  Of course, I thought it was a big joke, so I responded by saying 'Nice to meet you.  My name's Bob Menzies!'"
In 1996, Bob Hawke (the Volunteer) had the opportunity to meet Bob Hawke (the Prime Minister).  It was during an event where former Prime Ministers were invited to Old Parliament House to speak on their experiences in the top job.  On this occasion, the two gentlemen were introduced and shared a laugh (and a photo).  
Story compiled by Rossi Young, Visitor Services Officer, Museum of Australian Democracy at Old Parliament House, March 2016