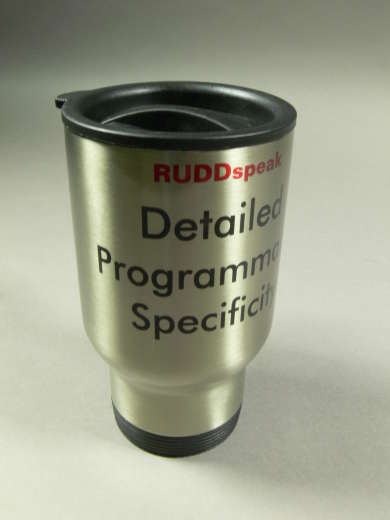 MoAD
Explore how prime ministers adapt their language for different audiences and purposes. Resources include mugs featuring Ruddspeak and the Election Speeches website. 
How do prime ministers adapt their language for different audience and purposes?
Discuss
Look at some examples of Ruddspeak, such as 'detailed programmatic specificity' on the travel mug.
What do you think Prime Minister Kevin Rudd meant by this phrase and why do you think he used this sort of language? Is it language that could be used in normal conversation? 
'Clever speech or clear speech' – which is more effective? 
Put your case using examples from the election speeches of Australian prime ministers and opposition leaders.
Research
How do politicians communicate formally and informally with Australians? 

Consider the changes in technology that have occurred since the early 1900s, and the effects these have had on the way messages reach the Australian public. When, and why, do you think Australian parliamentarians started using social media for public communication?
Use the Explore page on the Election Speeches website, including the Gunning Fox index, to consider what has changed and what has stayed the same in relation to election campaign speeches. 
Respond
Many leaders, including Kevin Rudd, use social media to communicate with the Australian people. Draft a tweet to a prime minister, past or present, relating to an issue you care about.
Or, select an election speech by an Australian prime minister and translate it into a series of tweets, to communicate the key points.
Create
Consider why a tweet text ends up on things like coffee mugs and T-shirts. Choose your favourite Rudd phrase and incorporate it into a design for a piece of clothing or a household item.