ANTHONY ALBANESE
Labor
23 May 2022 — present
1 year, 133 days
Anthony Albanese became Australia's 31st Prime Minister when the Labor Party won office, replacing the Liberal-National Party Coalition government led by Scott Morrison.
Born
2 March 1963
Sydney, New South Wales
Party
Australian Labor Party
Labor
23 May 2022 — present
1 year, 133 days
About
Anthony Albanese comes to the prime ministership determined to achieve things for the sort of people that he grew up with, 'the sort of people that need Labor governments.' Responding directly to the outcome of Federal Election 2022, which saw a record number of independents elected, Albanese has also pledged to bring Australians together and to lead a government 'worthy of the people of Australia.'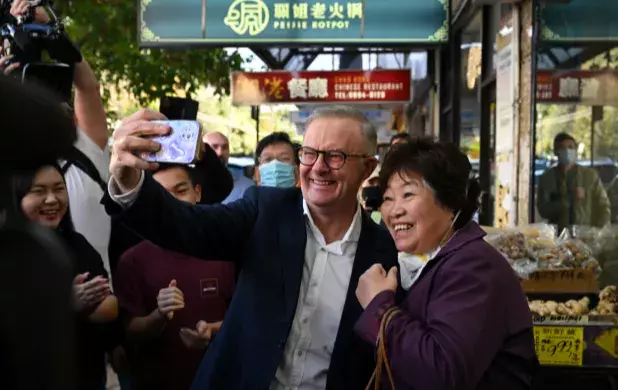 Albanese jokes that he is a product of three great faiths: the Catholic Church, the Labor Party and the South Sydney Rugby League Club. As a nine year old boy he accompanied his mother and grandparents handing out how to votes for Gough Whitlam in 1972. As a teenager he joined the Labor Party and was a student activist while studying economics at Sydney University. Albanese was Assistant Secretary of NSW Labor in his mid-twenties, and won the seat of Grayndler in 1996.
He rose to prominence in the Beazley and Crean shadow ministries and became Minister for Transport and Infrastructure in the Rudd government following the 2007 election. After the 2010 election, and the resulting hung parliament, Albanese was Leader in the House of Representatives in Julia Gillard's government and played a key role in managing relationships with the crossbenchers to get legislation passed. Albanese became Deputy Prime Minister in the short-lived second Rudd government and in 2013 ran for the Labor leadership, losing to Bill Shorten. After consecutive election losses in 2016 and 2019, Albanese was elected leader of the Labor Party.   
Albanese served a long parliamentary apprenticeship before his ascension to the prime ministership, many more years than most of his recent predecessors. He was criticised during the election campaign for adopting a 'small target' strategy but, acutely aware of past election losses, responded that 'one of my Labor principles is for Labor to win elections.'
2022
QUAD Summit
Immediately following their swearing in ceremony on 23 May, Prime Minister Anthony Albanese and Foreign Minister Penny Wong flew to Tokyo to attend the QUAD Summit with leaders from the United States, Japan and India. The Albanese Government affirmed Australia's commitment to the QUAD including stronger joint action in the Indo-Pacific region on climate change.
2022
First bilateral visit
Accompanied by a delegation of senior ministers and business leaders, Prime Minister Anthony Albanese signalled the importance accorded to the relationship with Indonesia by prioritising it for his first bilateral visit on 5-7 June. After President Widodo and Prime Minister Albanese rode around the grounds of the presidential palace together on bamboo bikes, the two leaders discussed trade, climate change and regional issues.
SEARCH our collections
Please fill in one or more fields below to start your search.