Billy Hughes may have been small in stature but, on any measure, he lived a large life. His biographer L.F. Fitzhardinge wrote that 'almost the whole of Hughes' life was passed in an atmosphere of controversy.' Hughes' passions and positions led him to be expelled from three parties and play a leading role in forming three other parties. 
Hughes was raised in London and Wales and served a brief stint with the Royal Fusiliers battalion, as well as working as a student teacher, before opting for a life in Australia. He arrived in 1884 and his early itinerant life in outback Queensland and later in Sydney was extremely harsh, forcing him to take jobs including railway stonebreaker, cook, boundary rider, seaman, umbrella mender and bookseller to make ends meet. In 1891 Hughes became involved in the formation of Labor Electoral Leagues. Hughes was lukewarm on Federation, but realising its inevitability stood for, and won, the seat of West Sydney in 1901. Hughes was Minister for External Affairs in the Watson Labor ministry in 1904 and Attorney-General and Deputy Leader in the Fisher Labor government. Hughes was elected prime minister in October 1915 after Fisher resigned. As wartime leader Hughes divided opinion, viewed either as a great patriot and 'Little Digger' by returned servicemen, or as an opportunistic warmonger who pushed for conscription.  At the Versailles Peace Conference in 1919 Hughes famously defied the great powers to ensure that Australia would be independently represented and protected against any future ambitions of Germany and Japan. Hughes served in the first Parliament in 1901 and remained there for a record 51 years and 7 months. 
Milestones
Australian Wheat Board

The Commonwealth government takes control of state wheat boards on 1 December 1915 to ensure efficient supply and marketing of the Australian wheat crop to meet increasing wartime demands. 

National shipping line

The government establishes the Commonwealth Shipping Line on 28 June 1916 with the purchase of 15 steamers from Great Britain. The ships will transport Australian wheat and wool to Britain as part of the war effort.

Armistice Day

The First World War ends with the surrender of Germany on 11 November 1918. Australia has suffered approximately 60000 official casualties. Armistice Day is established in 1919 to remember the losses, and observed each year with a minute of silence at 11am. 

War service homes

On 6 March 1919 the Commonwealth War Service Homes Commission is created. It provides low cost housing, and mortgage and rent assistance, for returned soldiers.

Treaty of Versailles

Prime Minister Billy Hughes signs the Treaty of Versailles at the Paris Peace Conference on 28 June 1919. The treaty establishes the League of Nations, with Australia becoming an independent member of the world's first intergovernmental organisation. 

Nauru Mandate

An agreement between Great Britain, New Zealand and Australia is signed on 2 July 1919 for the Australian administration of Nauru. Australia sought control of Nauru at the Paris Peace Conference, having captured the island from Germany in 1914. In 1920 it is designated an Australian mandate by the League of Nations. 

Aviation prize

On 10 December 1919 Australian aviators Ross and Keith Smith win the prize money offered by the Commonwealth government for the first flight from Britain to Australia. They successfully land their Vickers-Vimy aircraft in Darwin after the 28 day flight.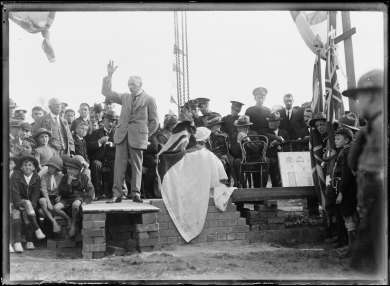 Fairfax
Parliament
The bulk of the legislation passed by the Hughes government was designed to increase its power to conduct the war. There was an emphasis on securing public safety and exercising enhanced Commonwealth powers over defence. Increased expenditure on defence meant the imposing of the first federal income tax, along with probate and succession duties. The conclusion of the war meant that attention turned to reconstruction, with the passing of legislation to provide for repatriation, war service homes and industry assistance. The Commonwealth Police Force was established by legislation in 1917 after Hughes was pelted with eggs at a conscription rally and in 1918 the Electoral Act established preferential voting. Hughes's well known lack of patience combined with his energetic prosecution of the war often led him to disregard the finer details of policy formulation. As part of this strategy he was not beyond making cunning use of his deafness and the inadequacy of his rudimentary hearing aid.
Party
Hughes once attacked Deakin in 1909 saying 'in his hands, at various times, have rested the banners of every party in the country. He has proclaimed them all, he has held them all, and he has betrayed them all.' This statement could equally have applied to Hughes. After losing the conscription referendum on 28 October 1916 the Labor Party split, with Hughes resigning and taking 24 members with him. Hughes formed a government consisting of his own breakaway followers supported by the opposition Liberal Party. By February 1917 a formal merger was concluded and the new Nationalist Party created. Hughes won the 1917 election comfortably and, in November of that year, launched a second conscription referendum. Hughes resigned on 8 January 1918 after the second referendum was lost. Hughes was sworn in again the next day when no viable alternative emerged. Hughes continued to retain command of the hybrid Nationalist Party, despite reservations, due to the desire for a 'win-the-war' alliance and to keep Labor from office. Hughes lost his majority at the 1922 election with the Country Party holding the balance of power. They refused to accept Hughes as leader, and he was forced to resign on 2 February 1923.   
Partnerships
Hughes usually had a pet project related to technological advancement in the pipeline. He proposed that Australia should manufacture its own aircraft and, linked to his other enduring interest in defence, argued a strong aviation industry was needed to ensure Australia would not be cut off from supplies in any emergency. Hughes told Parliament, 'I am – if honourable members care to say so – a fanatic in my belief in aviation.' The Premiers' Conference held in May 1920 agreed the Commonwealth would have the authority to control aviation, resulting in the establishment of the Department of Aviation to regulate air safety and navigation and build an air mail service. At the Imperial Conference in 1921, Hughes pitched for the creation of a fortnightly Anglo-Australian airship service where 'the country which is brought within ten days of the United Kingdom assumes altogether a new aspect in the eyes of the intending settler.' Despite Hughes enlisting the support of aviators Ross and Keith Smith, the scheme was short-lived, with the British government announcing the scrapping of the airships under commission and the disbanding of the crews in March 1922. 
People
While visiting Australian troops in France in September 1918, Hughes was swamped with complaints from the troops regarding Army regulations. He gave the soldiers his personal assurance that if they had a just grievance they could write to him. This interference was resented by Australian Imperial Force headquarters who referred to the offer as 'The Billy Hughes Stunt'. It was reported that some 20000 letters were received. Percy Deane, private secretary to Hughes, and himself a discharged soldier, indicated Hughes personally responded to as much of the correspondence as possible. Some reflected typical Australian larrikinism, 'Dear Mr Hughes – Do you see any chance of the war ending? If not for God's sake send us a cook. The present cook is an undertaker by trade.' There was also the request from a soldier in the 19th Battalion for Hughes to intervene over his field punishment and fine because he had refused to carry out an order to assist with the crucifixion of a prisoner of war. After Hughes died, an empty chair with a slouch hat and rosemary continued to be placed near the Sydney Cenotaph where he stood for 20 years watching Anzac Day marches.   
Sources
Norman Abjorensen, The Manner Of Their Going: Prime Ministerial Exits from Lyne to Abbott, Australian Scholarly Publishing, North Melbourne, 2015
Geoffrey Bolton, William Morris Hughes, 27 October 1915 – 9 February 1923, in Michelle Grattan (ed.), Australian Prime Ministers, New Holland Publishers, Sydney, 2000 
Carl Bridge, William Hughes: Australia, Haus Publishing Ltd, London, 2011
L.F. Fitzhardinge, The Little Digger 1914 – 1952: William Morris Hughes A Political Biography Volume II, Angus & Robertson Publishers, Sydney, 1979
Donald Horne, Billy Hughes Prime Minister of Australia 1915 – 1923, Black Inc., Sydney, 2000
Aneurin Hughes, Billy Hughes: Prime Minister and Controversial Founding Father of the Australian Labor Party, John Wiley & Sons, Sydney, 2005
The Townsville Daily Bulletin, Where 'Billy' Stood, 27 April, 1953
The Sun, Diggers Troubles, 8 July, 1919
The Age, Airships for Australia, 10 October, 1921

The Hobart Mercury, The Imperial Airship Service, 1 November, 1922