Billy McMahon took on the forces of protectionism, including within his own Coalition government, to try to accelerate the reorientation of the Australian economy. For this reason, as well as traditional rivalries, he needed to overcome significant resistance to become the first non-Victorian Liberal prime minister. Considered a 'safe pair of hands', McMahon's political tactics did not endear him to his colleagues or to the public.
McMahon developed an interest in politics from an early age, and his father and uncle, a former Sydney Lord Mayor, had both been active in the United Australia Party.  McMahon had degrees from the University of Sydney in law and economics. He was an active member of the Sydney establishment and social scene, attending the Randwick races and enjoying music and ballet. McMahon had been Treasurer, was considered a capable minister in a range of senior portfolios, and Deputy Leader of the Liberal Party, yet was unable to reap the full benefit of his considerable experience while prime minister.   Despite the program of change offered by Whitlam, the swing to Labor in 1972 was restricted by the Coalition's campaign to only 2.5%. McMahon stayed on the front bench until 1974 and held his seat of Lowe until his retirement from politics in 1982.
Milestones
Relief aid announced for East Pakistan refugees

Emergency relief aid of $500 000 is announced on 27 May 1971 for refugees fleeing fighting in the East Pakistan region. The conflict ends with the region gaining independence and becoming Bangladesh.

Springbok rugby union tour of Australia

On 27 June 1971, the South African rugby union team arrives in Australia. The tour is supported by the government, but for many hosting the tour by the Springboks lends credibility to South Africa's apartheid policy. The tour is met by some violent protests, and union-imposed travel bans.

Changes to access for Cabinet records

A high level of research interest in the Second World War led to the announcement that the public release of records for the war period would be increased, including Cabinet records which would now be available after a period of 30 years.

Aboriginal Tent Embassy

The Aboriginal Tent Embassy was established on Australia Day in 1972 on the lawns outside of Parliament House to protest the government decision to reject a proposal for Aboriginal land rights.

Yirrkala people receive mining royalties

On 26 January 1972 it is announced that the Yirrkala people from the Gove region in the Northern Territory will be able to keep a small royalty from bauxite and aluminium mining on their country.

Ord River irrigation scheme completed

On 30 June 1972 the Ord River Dam irrigation project in the Kimberley region of Western Australia is opened. It is the largest capacity dam in Australia and part of a bold plan to develop intensive agriculture in northern Australia.

Australia House

Authority for Australia House is transferred from the Prime Minister's Department to the Department of Foreign Affairs on 1 November 1972. This reflects Australia's changing relationship with Great Britain.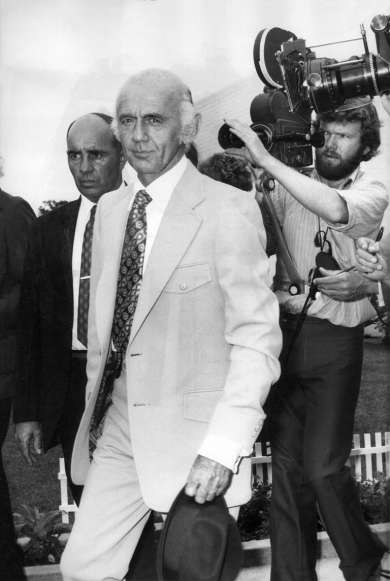 News Ltd/Newspix
Parliament
McMahon had little time before the 1972 election to arrest what appeared to be an inevitable Whitlam victory. McMahon did try to counter Whitlam's progressive policy agenda with his own program. He proposed a National Urban and Regional Development Authority, called for an inquiry into poverty and changes to allow federal government control of child care centres. McMahon continued the Council for Aboriginal Affairs, but was not convinced about embracing its land rights suggestions, preferring a system of leasing land to Aboriginal people. In an effort to increase his public support McMahon included income tax cuts and pension increases in the Budget. In many cases, however, the McMahon Government's policies were reactions to the Labor policy agenda. An example of this was McMahon's criticism of Whitlam's 1971 visit to communist China. It was soon revealed that American president Richard Nixon had also accepted an invitation to visit China in an effort to normalise relations between the two countries. When pressed on this in Parliament, McMahon had to concede, 'It's our policy too'. 
Party
The nature of the transition from the leadership of Gorton to McMahon meant that any search for closure, or party unity, was going to be difficult. This was compounded by the decision of the party to vote Gorton in as Deputy Leader to McMahon. McMahon removed Gorton as Minister for Defence in August 1971, after Gorton had written a series of articles for The Australian newspaper that he deemed to be a breach of Cabinet solidarity. McMahon also removed Gorton supporters Leslie Bury and James Killen from the ministry. Both men made clear their intention to be dedicated backbench irritants, with Killen declaring 'They'll need a firing squad to silence me.' McMahon's relations were similarly fractious with the Country Party. In December 1971 Doug Anthony, the Country Party leader, threatened to leave the Coalition over the issue of devaluing the Australian dollar in line with the US dollar. The party unrest continued, to varying degrees, for McMahon's remaining period in office. Two weeks before the 1972 election McMahon gave a radio interview where he appeared to question the responsiveness of his ministry.  
Partnerships
Australia became the 23rd member of the Organisation for Economic Cooperation and Development (OECD) on 7 June 1971. This was followed in March 1972 by a week-long visit to Australia by the OECD Secretary-General, Emile Van Lennep, where he met with Prime Minister McMahon. McMahon had been a significant player in the negotiations to achieve OECD membership during his period as Treasurer and Minister for External Affairs. McMahon was a strong champion for open economies and free markets and argued that Australian economists would now have access to one of the most prestigious international economic research organisations. McMahon stated that, 'the invitation to join the organisation can be justly regarded as clear recognition of Australia's economic standing.' Part of the obligation of OECD membership included participation in an annual review of the Australian economy to be shared with other member countries. The OECD review was welcomed by many of the participants in the economic debate because it offered expert advice in addition to that presented by Treasury and the Reserve Bank. The first full OECD report was expected to express concern over the McMahon government's approach to rising inflation, an unwelcome message in an election year. In the end the report was not released until after the 1972 election.  
People
On 19 September 1972, McMahon opened the Woden Plaza shopping complex. It was the focus of the new Woden Town Centre, the first town centre to be built beyond inner Canberra. The opening was attended by 30000 people, who as The Canberra News notes were forced to park in 'no-parking zones, on red kerbs, rotary-hoed paddocks and on construction sites'. McMahon spoke of the plaza as a 'magnificent example of what could be done by government and private enterprise' working together. He added that 'the centre, the new towns themselves and the Parliamentary Triangle must be regarded as examples of the national will and the national skill.' McMahon was reported in The Canberra Times as having suggested at the plaza opening that Woden would have its own elected representative within the next ten years. This statement was used in Parliament by the Opposition Leader, Gough Whitlam to bolster his argument about government delay in approving electoral redistributions. Whitlam accused McMahon of having 'exposed your prevarication on this matter to members of an enthusiastic audience…'  
Sources
Norman Abjorensen, The Manner Of Their Going: Prime Ministerial Exits from Lyne to Abbott, Australian Scholarly Publishing, North Melbourne, 2015
Troy Bramston, Wherefore art thou Billy?, Eureka Street, 31 May, 2006
Wallace Brown, Ten Prime Ministers: life among the politicians, Longueville Books, Sydney, 2002
Bruce Juddery, Australia to join OECD next month, The Canberra Times, 26 May, 1971
Julian Leeser, McMahon, Sir William (Billy) (1908-1988) Australian Dictionary of Biography, National Centre of Biography, Australian National University, http://adb.anu.edu.au/biography/mcmahon-sir-william-billy-15043 published first in hardcopy 1988
Susan Mitchell, Stand By Your Man: Sonia, Tammie & Janette, Random House Australia, North Sydney, 2007
Peter Sekuless, Sir William McMahon, 10 March 1971 – 3 December 1972, in Michelle Grattan (ed.), Australian Prime Ministers, New Holland Publishers, Sydney, 2000    
David Soloman, PM denies hint on new seat, The Canberra Times, 29 September, 1972
The Canberra Times, From sheep country to shopping mall, 14 September, 1992
The Canberra Times, 'National will, skill' shows in new plaza, 19 September, 1972