Bob Hawke was  an optimistic prime minister, driven by the certainty that he could negotiate solutions to intractable problems and communicate with people from all walks of life. He was also a pragmatist, generally willing to allow his ministers a 'light rein' and to change course as circumstances required. 
Hawke was a Rhodes Scholar in 1953 and graduated from Oxford University in 1956. He became well known as an advocate for the Australian Council of Trade Unions (ACTU) and, from the late 1950s, presented the annual cases for higher wages to the Conciliation and Arbitration Commission. Bob Hawke was the ACTU President for a decade from 1970-1980, and President of the Labor Party from 1973-1978.  In 1980 he was elected to the House of Representatives for the seat of Wills in Melbourne and in an unusual step, consistent with his background and public profile, was immediately appointed Shadow Minister for Industrial Relations, Employment and Youth. He became leader of his party on the day a general election was called in March 1983 and won a landslide victory in that poll, the first of four election wins. He was Australia's longest-serving Labor prime minister but, while his party was still in government, lost the leadership in December 1991. He resigned from Parliament two months later in February 1992.
Milestones
Economic Summit

A national summit meeting of leaders of business, industry, government and trade unions is held on 11 April 1983. The meeting discusses overall economic strategy, with a focus on the pressing issues of unemployment, inflation and wages.

Floating of the Australian dollar

The Australian dollar is floated on 9 December 1983 and the international market begins to set the exchange rate and value of the Australian dollar. 

Medicare commences

Australia's second universal health insurance system, Medicare, is introduced on 1 February 1984 and becomes entrenched as a key part of health policy.

Pitjantjatjara people receive deeds to Uluru area

The deeds to Uluru were presented to traditional owners, the Pitjantjatjara people, by Governor-General Sir Ninian Stephen on 1 October 1984. Uluru is managed in a joint arrangement between the local Indigenous community and the National Parks and Wildlife Service.

Prices and Incomes Accord

The Accord is extended with unions moderating wage increases in return for tax cuts and superannuation entitlements.

Australia Act

The Australia Act passed on 2 March 1986 ended the inclusion into Australian law of British Acts of Parliament, and abolished remaining provisions for appeals from Australian courts to the Privy Council. 

Twin pillars

Building on earlier moves towards superannuation for all workers, the Hawke Government's 1989 retirement income policy statement argues for 'twin pillars' of age pension and private superannuation.

Higher Education Contribution Scheme

The Higher Education Contribution Scheme (HECS) was introduced on 1 January 1989. The scheme was designed to shift part of the cost of higher education from the Commonwealth to students.

Asia-Pacific Economic Cooperation (APEC)

The twelve founding members of the APEC Forum meet in Canberra on 5 November 1989 for the first time. 

Aboriginal and Torres Strait Islander Commission (ATSIC)

ATSIC is established on 5 March 1990 as a Commonwealth statutory authority. It aimed to give Indigenous people direct involvement in administering government programs and provided for the election of Indigenous representatives from regional land councils.

Gulf War

The deployment of an Australian naval contingent to the Persian Gulf is announced on 17 January1991, in response to Iraq's invasion of Kuwait in what becomes the First Gulf War.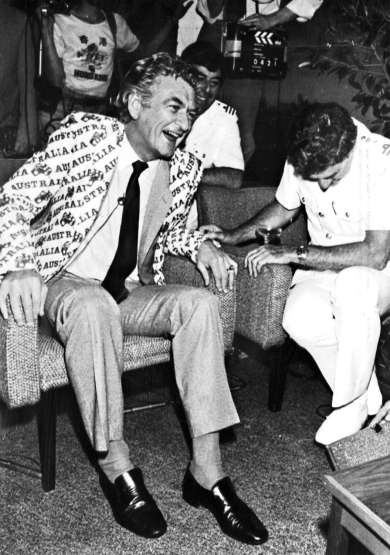 News Ltd/Newspix
Parliament
The Hawke Government set out to change Australia, having learnt from the successes and failures of past governments. Critical to this was the early decision to harness the full capacity of the public service, rather than holding it at arm's length from policy development. Legislative and other successes included Medicare, Landcare, the Prices and Incomes Accord, the Family Assistance Scheme, the initiation of superannuation schemes for all workers, the formation of the Asia-Pacific Economic Cooperation forum (APEC) with 21 Pacific Rim Members, the deregulation of the financial sector, and the announcement that Advance Australia Fair would be the National Anthem. Across the Hawke governments Aboriginal affairs received considerable attention, as did the environment, while higher education was transformed and equal opportunity acquired a national emphasis, including through legislation against gender discrimination in workplaces. 
Party
Hawke brought his ACTU negotiating skills to his very public role as Prime Minister.  While his authority within the Party was unquestioned, he also achieved consensus within government ranks, was politically astute, provided advice on what was electorally acceptable, and brought diverse groups to the negotiating table. While able to persuade his ministers and members to support policy changes, he relied on the considerable support of his Treasurer Paul Keating and Industry Minister John Button to achieve economic reform. Other Ministers, too, were drivers in their portfolios in what was viewed as a reformist government. At the grassroots level Labor Party members were at times critical, notably  in relation to his siding with the airlines during the pilots' strike and his willingness to cooperate with business interests. His leadership was damaged, the electorate was becoming disenchanted with the recession, and he was successfully challenged at the end of 1991.
Partnerships
The 1983 Accord between the government and unions, led by Bob Hawke and ACTU Secretary Bill Kelty, was a landmark agreement. It was achieved at the end of a difficult process for both bodies, at a time when the economy was stagnating. Kelty, whose support was vital, recorded that it was an exercise in changing people's ideas; that the Accord opened the economy to the world, improved real wages and produced an effective minimum wages system, but promised that the living standards of all sectors of the population would be maintained. Full employment, reflecting the interests of the government and the union movement, was the primary aim, but its political success allowed Hawke's government to restrict wage demands restraining wage growth, and to re-cast social policy including the health system. Bill Kelty was central to the operation of Hawke's agreement with the union movement.
People
Bob Hawke's admiration for West Australian tycoon Alan Bond was well known when Bond's yacht Australia II won the America's Cup for Australia in September 1983. Hawke considered that Bond had lifted the national spirit with his win at a time when the country was in economic decline, but united around this 'marvellous historic victory'. Known as 'Bondy' and 'Hawkie', Hawke wore his highly recognisable Australia jacket, and joked and laughed with Bond in Perth during celebrations at the end of the race. Hawke also memorably stated that Australians taking a day off to celebrate the victory should not be penalised.
Sources
Neal Blewett, Robert James Lee Hawke, in Michelle Grattan (ed), Australian Prime Ministers, 2010
Gerry Bloustein, Barbara Comber & Alison Mackinnon (eds.), The Hawke Legacy, Wakefield Press, Kent Town, 2009 
Blanche d'Alpuget, Hawke: the Prime Minister, Melbourne University Press, Carlton, 2010
Bob Hawke, The Hawke memoirs, William Heinemann Australia, Port Melbourne, 1994
Bob Hawke, National reconciliation: the speeches of Bob Hawke, Prime Minister of Australia, Fontana, Sydney, 1984 
Christine Jennett & Randal G. Stewart (eds.), Hawke and Australian public policy: consensus and restructuring, Macmillan, South Melbourne, 1990 
Stephen Mills, The Hawke years: the story from the inside, Viking Press, Ringwood, 1993 
Susan Ryan & Troy Bramston (eds.), The Hawke government: a critical retrospective, Pluto Press Australia, North Melbourne, 2003
Roger Wettenhall & John Nethercote (eds.) Hawke's second government: Australian Commonwealth Administration 1984 – 1987, Canberra College of Advanced Education and Australian Institute of Public Administration, Belconnen, 1988
Roger Wettenhall & John Halligan (eds.) Hawke's third government: Australian Commonwealth administration 1987 -1990, University of Canberra and Australian Institute of Public Administration, Belconnen, 1992
Thanks to Dr Auriol Weigold for her contribution to this page.