HAROLD HOLT
Member of the Privy Council (1953), Order of the Companion of Honour (1967)
Liberal
26 January 1966 — 19 December 1967
1 year, 327 days
Harold Holt became Australia's 17th prime minister when Robert Menzies retired from Parliament in January 1966.
Born
5 August 1908
Sydney, New South Wales
Died
17 December 1967
Cheviot Beach, Victoria
Liberal
26 January 1966 — 19 December 1967
1 year, 327 days
About
Harold Holt had ambitions, but they were more for the country than for himself. He considered that Australia needed to become more independent in policy and practice, including in relation to Britain. He took pride in 'not stepping over anyone's dead body' to ascend to the position of prime minister.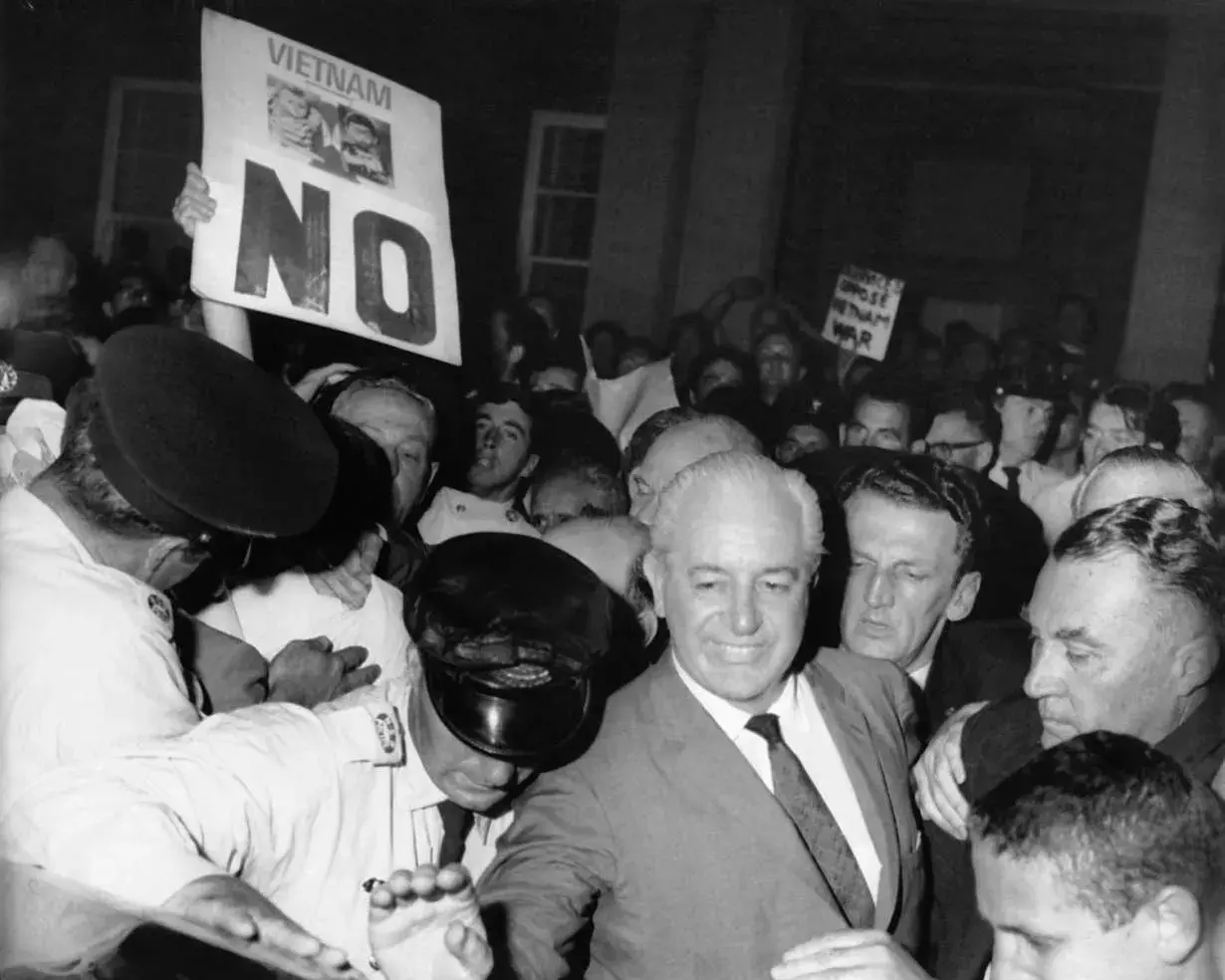 Holt began work as a solicitor, but was urged by a number of acquaintances including Menzies to run for parliament, and stood for the United Australia Party (UAP) against James Scullin in the seat of Yarra in 1934. The loss was only a temporary setback, with Holt entering parliament in 1935, at just 27 years of age.
In 1940 Holt enlisted in the Australian Imperial Force as a gunner, with parliamentarians receiving military pay in addition to their parliamentary allowance and being given a 'pair' during parliamentary divisions. Later in 1940 he was recalled to the ministry by Menzies, following the death of three ministers in an air crash in August that year.
Holt served patiently as Deputy Leader for a decade, before being elected unopposed to the leadership of the Liberal Party just a few hours after Menzies announced his retirement in 1966. Despite a significant parliamentary career spanning more than three decades, Holt is often remembered for his tragic drowning off the Victorian coast. Responses to his death included a plaque on the rock floor of Cheviot Beach and the naming of a U.S Navy warship, and a Melbourne swimming pool, in his honour. 
1966
Senator Annabelle Rankin appointed Minister for Housing
The Holt ministry includes Senator Annabelle Rankin as Minister for Housing. She is the first Australian woman to administer a federal government department.
1966
Introduction of decimal currency
On 14 February 1966 decimal currency is introduced in Australia. Discussions in Australia about a decimal currency had started as early as 1901.
1966
Australian task force committed to Vietnam
On 8 March 1966 it is announced that the Australian battalion in South Vietnam will be replaced by a larger task force under Australian command, consisting of 4500 men.
1966
Changes to the White Australia policy
In March 1966 the Holt Government introduces significant changes to the White Australia policy, lowering the requirements for non-European entry, residency and citizenship.
1966
Pine Gap defence facility established
On 12 September 1966 Australia enters into an agreement with the United States for the establishment of a joint defence space research facility at Pine Gap in the Northern Territory.
1967
The 1967 Referendum
In the Commonwealth referendum on 27 May 1967 more than 90 per cent of Australians voted 'Yes' to removing two references in the Australian Constitution which discriminated against Aboriginal people. This meant that the Federal Government could make laws relating to Aboriginal.
1967
Council for Aboriginal Affairs established
On 2 November 1967 the Council for Aboriginal Affairs is established. It was to advise on the formation of national Aboriginal policy and provide linkages between the states and relevant federal departments.
1967
First satellite launched
The first Australian satellite WRE SAT 1 is launched from Woomera in South Australia on 17 November 1967. Australia is only the third country to launch a satellite from its own territory. The satellite carried out scientific tests measuring the composition of the atmosphere and solar radiation.
360° VIEW
Parliament
Holt was committed to his parliamentary duties to the point of 'slavishness', with substantial experience of the requirements of managing parliamentary business gained from a decade as the Leader of the Government in the House of Representatives. The Holt Government's election victory in November 1966 greatly reduced the number of Labor parliamentarians, and Arthur Calwell's retirement brought Gough Whitlam to the leadership.
Holt was under pressure, within his party and beyond, to step up and perform well in Parliament by comparison with the new Opposition Leader. The half-Senate election on 26 November 1967 was expected to extend the 1966 election success, instead the government lost control of the Senate.
Throughout 1967, Holt faced significant pressure in Parliament over lengthy, unresolved issues including allegations about misuse of Royal Australian Air Force VIP flights, which centred on the extent to which passenger lists for these flights were available.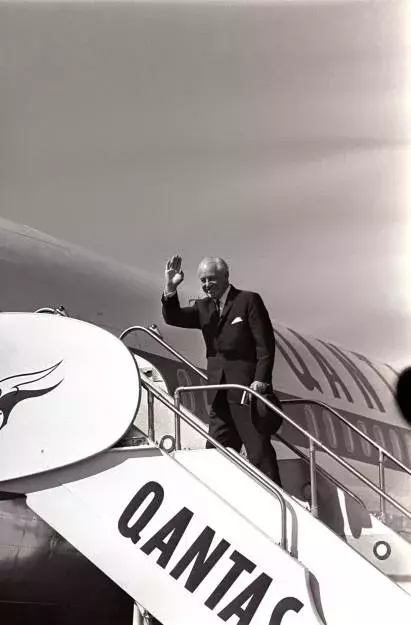 SEARCH our collections
Please fill in one or more fields below to start your search.