JOHN HOWARD
Companion of the Order of Australia (2008), The Order of Merit (2011)
Liberal
11 March 1996 — 3 December 2007
11 years, 269 days
John Howard became Australia's 25th prime minister when the Liberal Party won office, replacing the Labor government led by Paul Keating.
Born
26 July 1939
Sydney, New South Wales
Liberal
11 March 1996 — 3 December 2007
11 years, 269 days
About
John Howard digested lessons from his many years in parliament to become a highly disciplined and professional politician who left nothing to chance.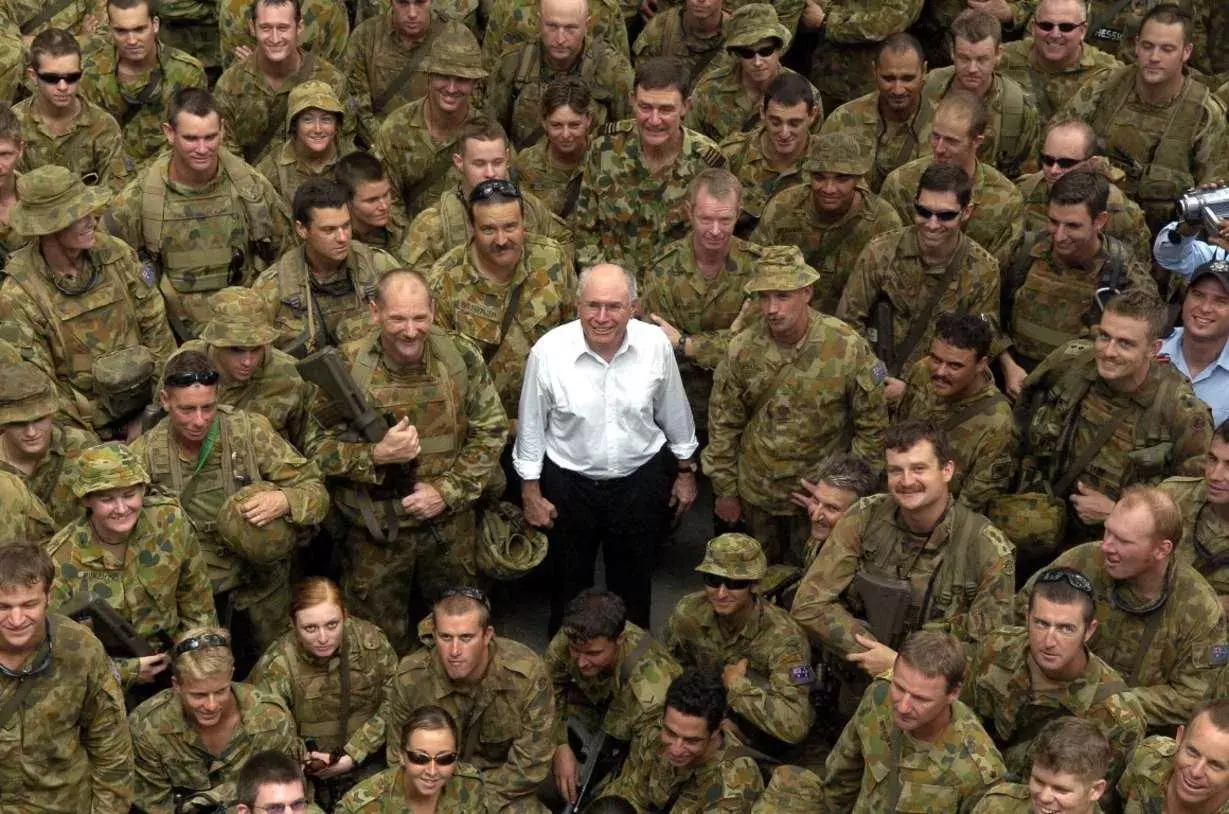 Howard's skilled use of rhetoric helped him communicate his vision of economic prosperity and social conservatism and become Australia's most electorally successful prime minister since Menzies.  
Howard grew up in the Sydney suburb of Earlwood and became aware of politics from family discussions about the impact of petrol rationing on his father's service station business. He left Canterbury Boys' High School in 1956 to study law at the University of Sydney and joined the Young Liberal Movement in 1962. Howard became president of the New South Wales Young Liberals and won pre-selection for the state seat of Drummoyne in 1968.
He did not win the seat, but went on in 1972 to become vice-president of the state Liberal Party and work on Billy McMahon's election campaign. In the 1974 election, Howard won the federal seat of Bennelong and soon became the Minister for Business and Consumer Affairs and then Treasurer by 1977. Howard was Leader of the Opposition at the 1987 election, but his campaign was damaged by the push to bring Queensland Premier Joh Bjelke-Petersen into federal politics.
Thereafter Howard was one of several contenders for the leadership and, at one point, likened his aspirations to 'Lazarus with a triple bypass'. Howard's time came again in 1995 when he was returned as Liberal leader. In 1996, Howard became prime minister and went on to secure another three terms in office. Howard would preside over one of Australia's longest periods of economic expansion. When the end came, policy certainty became perceived as rigidity. 
1997
One Nation launch
The One Nation Party is launched by Pauline Hanson on 11 April 1997 and controversially calls for tighter laws to restrict immigration.
1998
Constitutional Convention
On 13 February 1998 the Constitutional Convention votes that a proposal for a republic with a president appointed by Parliament be put to the Australian people. The referendum is held on 6 November 1999 and the model is rejected by the public.
1999
Fraser as special envoy
Malcolm Fraser is appointed as a special envoy of the Australian government on 19 April 1999 to secure the release of CARE Australia aid workers Steve Pratt and Peter Wallace imprisoned in Yugoslavia.
1999
Croker Island sea rights
The Federal Court upholds the validity of native title sea rights relating to Croker Island in the Northern Territory on 3 December 1999. The government had appealed against an earlier Native Title Tribunal decision.
2000
Olympic Games
The Governor-General opens Olympic Games in Sydney on 15 September 2000. The bid was lauded for transforming polluted land around Homebush Bay into a model Olympic village.
2002
CHOGM meets in Queensland
The Commonwealth Heads of Government Meeting in Coolum, Queensland on 4 March 2002 establishes a committee to determine the Commonwealth response to the Mugabe regime in Zimbabwe.
2004
National Water Initiative
The Council of Australian Governments (COAG) agrees to a National Water Initiative and the establishment of the National Water Commission on 25 June 2004 to manage Murray-Darling Base water more efficiently.
2004
Australia-United States Free Trade Agreement
The Australia-United States Free Trade Agreement is passed in Parliament on 13 August 2004 after negotiations over a number of years. The agreement comes into operation on 1 January 2005.
2004
Boxing Day Tsunami
On 26 December 2004 a massive tsunami brought major devastation and loss of life to eleven countries, including Indonesia. The Australia-Indonesia Partnership for Reconstruction was formed to assist Indonesian recovery.
2007
APEC hosted in Australia
The Asia Pacific Economic Cooperation Forum is held in Sydney on 8 September 2007 and a giant APEC Australia 2007 logo is attached to Sydney Harbour Bridge.
360° VIEW
Parliament
After only two months in office, Howard was confronted by the tragic shooting at Port Arthur in Tasmania. He responded decisively, introducing uniform gun laws and a gun buy-back scheme. After intensive bargaining with the Senate, Howard obtained the numbers to allow for the sale of up to half of Telstra.
Industrial relations reform was always a core issue for Howard and in January 1997 the Workplace Relations amendments were passed. After the High Court's Wik decision the government enacted legislation to calm pastoralists' concerns over Indigenous native title.
In the October 1998 election the Goods and Services Tax (GST) returned as the dominant issue of the campaign. Howard narrowly won the election and the GST came into operation from 1 July 2000. In 1999 the government supported the East Timorese independence push from Indonesia and Australian troops led the United Nations peace keeping force deployed to Timor. During the 2001 election campaign the Norwegian ship MV Tampa was prevented from landing rescued Afghan refugees in Australian waters.
This was soon followed by the 'children overboard' affair and led to the controversial border protection policy that remained prominent throughout Howard's period in office. The issue of national security took on increased significance after al-Qaeda terrorists attacked New York and Washington D.C. on 11 September 2001. This ushered in the 'war on terrorism' and framed the remainder of Howard's prime ministership.
Australian troops were sent to Afghanistan and Iraq in 2003 to support the American-led coalition. Domestic security was heightened in response to the loss of Australian lives in the Bali bombing. Howard won a fourth term in 2004, but was weakened by the strong reaction against his WorkChoices reform.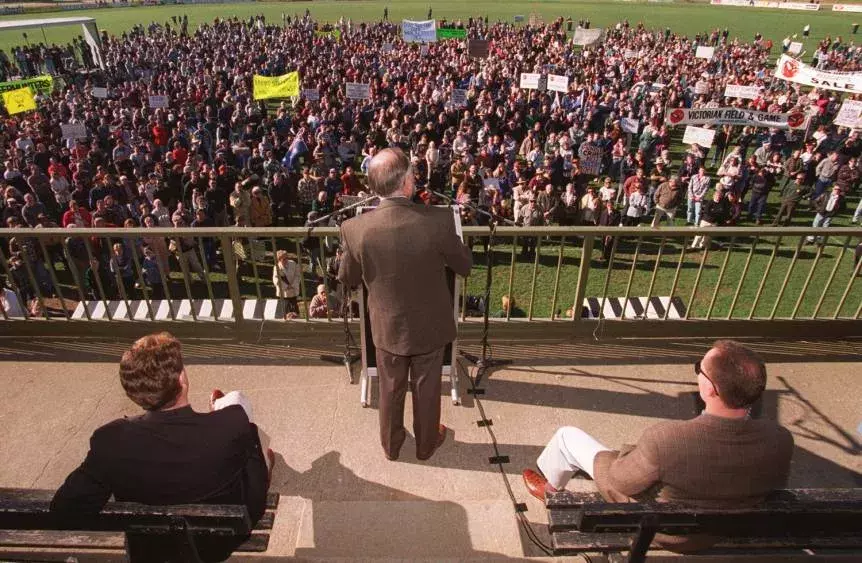 SEARCH our collections
Please fill in one or more fields below to start your search.