JOHN MCEWEN
Member of the Privy Council (1953), Order of the Companion of Honour (1969), Order of St Michael and St George - Knight Grand Cross (1971) 
Country
19 December 1967 — 10 January 1968
22 days
John McEwen became Australia's 18th prime minister after the disappearance of Harold Holt, and until the Liberal Party elected a new leader. 
Born
29 March 1900
Chiltern, Victoria
Died
20 November 1980
Melbourne, Victoria
Partners
Anne Mills McEwen
Mary Eileen McEwen

Photo: NAA: A1200, L57688
Country
19 December 1967 — 10 January 1968
22 days
About
John McEwen was universally described by colleagues and opponents as formidable, both in physical presence and in the way he prosecuted his political objectives. Menzies dubbed him 'Black Jack' because he reminded him of a legendary Scottish warrior, but quite possibly also due to his dark demeanour when crossed.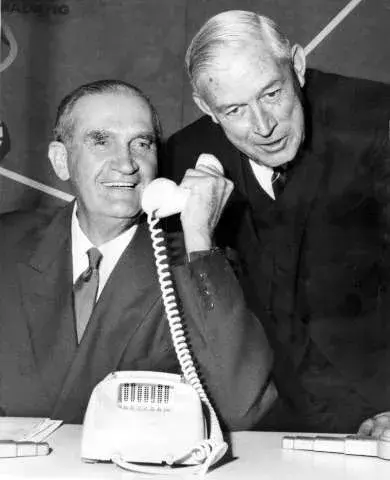 McEwen briefly worked as a junior in the Crown Solicitor's office in Melbourne for Fred Whitlam, father of Gough Whitlam. He left to join the Army, but before he could serve overseas the First World War ended. McEwen was eligible for a soldier settler land grant and began farming near Stanhope in Victoria.
His hand-to-mouth struggle through drought and depression defined McEwen and drove him into rural politics. After gaining prominence with the Victorian Farmers' Union, he became the member for the federal seat of Echuca in 1934.
McEwen became leader of the Country Party and Deputy Prime Minister in 1958 and was a minister for 24 years of his 37 years in Parliament. He held portfolios in aviation, external affairs and was a member of the Advisory War Council.
He became Minister for Commerce and Agriculture in 1949 which later became Trade and Industry and he turned it into a super-ministry rivalled only by Treasury. McEwen retired from politics in 1971. He was prime minister for just 23 days, yet is considered by many to be one of our most influential politicians, particularly in the area of trade policy. 
1967
First and only press conference
On 20 December 1967 John McEwen gave a press conference to reassure the public that 'he assumed the office of Prime Minister with no sense of personal gratification.' He indicated he would retain the position only until the Liberal Party elected a new leader and stressed continuity in relation to the Vietnam War, broader foreign policy and maintenance of national growth.
1967
Murray River salinity
Federal funding of up to $3.5 million in non-repayable grants is announced for Victoria on 21 December to mitigate salinity in the Murray River at Mildura and Barr Creek.
1967
Harold Holt Memorial Service
The memorial service for Prime Minister Harold Holt was held in St Paul's Cathedral, Melbourne, on 22 December 1967. It was attended by US President Lyndon Johnson, Prince Charles, British Prime Minister Harold Wilson and other heads of state and government.
1968
Australian quintuplets born
Government assistance is announced on 4 January to support the Braham family from Tenterfield in New South Wales, after Pat Braham gives birth to Australia's first naturally conceived quintuplets.
360° VIEW
Parliament
McEwen was a devastating parliamentary performer. His encyclopaedic command of detail relating to his portfolio interests of farming, trade and manufacturing was used to savage the argument of an opponent.
Billy Hughes commented 'he's just gone over the whole of the dairy herds of New South Wales… cow by cow.' The only challenger on policy came not from the opposition benches, but from Liberal backbencher and farmer Bert Kelly.
Kelly stated his sole reason for standing for Parliament was to oppose McEwen on tariff policy. McEwen on occasion would simply treat a Kelly question as an affront worthy of only stony silence in response. McEwen also stressed respect for Parliament, advising new party member Ralph Hunt, 'if you ever say something in the House that you later find to be wrong, go back and correct it – not tomorrow, not later in the day but right away.'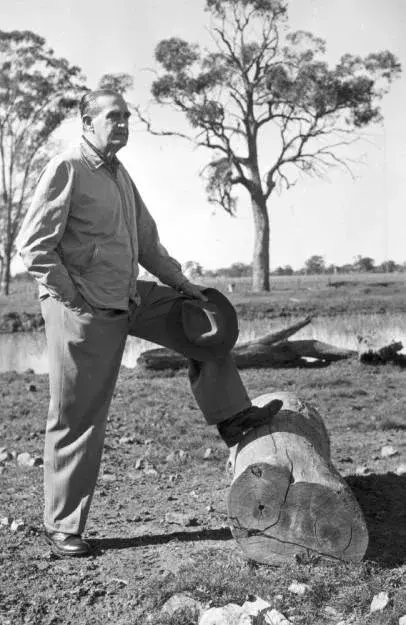 SEARCH our collections
Please fill in one or more fields below to start your search.