Malcolm Turnbull, like prime ministers before him, could have chosen a different path. The magnetic pull of public service, as opposed to public life, is ambitions for Australia beyond what can be achieved in other sectors. The challenge for all leaders being to bring the party and the people with you.
Malcolm Turnbull excelled academically in his youth and, before embarking on a political career, was a Rhodes scholar, journalist, high profile lawyer and businessman. In 1993 he was appointed Chairman of the Republic Advisory Committee, but this involvement did not culminate in the achievement of the goal of transition to an Australian republic. After earlier unsuccessful attempts at Liberal pre-selection, Turnbull was elected for the seat of Wentworth at the 2004 federal election. Turnbull quickly rose through the ranks of the Liberal party, as Environment Minister in the last term of the Howard government and later as federal opposition leader. He lost the Liberal leadership to challenger Tony Abbott in December 2009, but remained a prominent figure on the Liberal Party frontbench as Minister for Communications. In 2015, he challenged Tony Abbott for the leadership and was successful, and this time he also became prime minister. Turnbull called an election for 2 July 2016, which he narrowly won after a marathon eight-week campaign. 
Milestones
Women's Safety Package

The Women's Safety Package, announced on 24 September 2015, provides $100 million for services to prevent and mitigate violence against women.  This is in response to influential public campaigns that exposed the worrying levels of violence against women in Australia.

Innovation Package

A plan to spend $1.1 billion over four years to increase ties between the research sector and business, and increase education funding in science and technology at schools and universities is announced on 7 December 2015. The intention of the package is to create an 'ideas boom' in Australia.

Australian of the Year Awards

David Morrison, the Chair of Diversity Council Australia, is announced on 26 January 2016 as the Australian of the Year. 

Port Arthur Commemoration Service

Malcolm Turnbull gave an address in commemoration of the 20th anniversary of the Port Arthur shootings on 28 April 2016.

Federal Ministry sworn in

The new ministry was sworn in on 19 July 2016 by the Governor-General Sir Peter Cosgrove. The Cabinet increased in size from 22 to 23 ministers, the largest since the 1970s.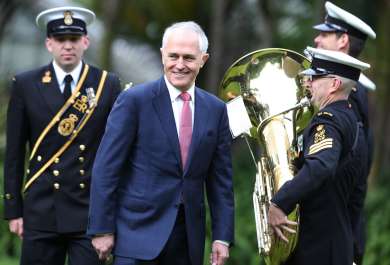 Gary Ramage/Newspix
Parliament
In his first press conference after becoming prime minister, Malcolm Turnbull announced that his would be an optimistic 21st century government and also that there had never been a more exciting time to be Australian. In line with this, an innovation program was later announced to boost CSIRO and collaborative research, and to make it easier for overseas entrepreneurs to obtain visas to come to Australia. Responding to growing community concern, Turnbull also highlighted addressing domestic violence as a national priority and offered new funding for this in a Women's Safety Package initiative. The government began an examination of ways to prevent multinational tax avoidance, to ensure companies that made a profit in Australia pay tax here. Turnbull also softened the tone of the debate on national security, indicating that counter-terrorism measures needed to be right, not just tough. Turnbull won the 2016 election, but the government's significant majority was reduced to a single seat in the House of Representatives. In addition to this, the Senate electoral reforms on preference numbering, combined with a double dissolution, did not bring about the desired Coalition majority in the upper house. Instead, the Turnbull Government must work with an expanded crossbench consisting of Greens, Pauline Hanson's One Nation party, the Nick Xenophon Team and a number of independents.
Party
Turnbull has not always been embraced by all of his Liberal Party colleagues, particularly in regard to his views on issues such as same-sex marriage and climate change. As opposition leader his support for measures to tackle climate change had split the party and cost him the leadership. As low figures in opinion polls continued for Tony Abbott, and the popularity of Turnbull as alternative increased, this culminated in a leadership change on 15 September 2015. Turnbull was keen to show he had learnt from his previous period as leader and the ministerial reshuffle when he became prime minister was not seen as overly punitive. He vowed to consult widely and reinstate the primacy of Cabinet decision-making. As a further display of goodwill, Turnbull negotiated a deal with the National Party not to abandon the Coalition's climate change policy during his period as prime minister. After the strong showing by the National Party in the 2016 election, Turnbull announced the Nationals would be given additional front bench positions. Previous Cabinet ministers retained their places within the new Turnbull Cabinet, albeit with some reshuffles, and the prime minister vowed that 'we won't hit the ground reviewing, we will hit the ground doing'.
Partnerships
In an interview on the ABC 7.30 Report, in his first week as prime minister, Turnbull indicated his strong support for philanthropy and that Kirribilli House was 'a great location to use for charities and opportunities to support good causes.' His view was, '… if you do well, you've got to give something back. That's why I encourage people to be generous. That's why I encourage and practice philanthropy.' In June 2014, Turnbull launched the 'One Million Donors Program' which aimed to see one million Australians giving to charities through their individual workplaces by 2020. In this speech, Turnbull outlined in some detail his personal philosophy on giving, 'But the whole point of philanthropy is that it is not reciprocal. It is the voluntary surrender of something that is yours, purely for the benefit of others. And it is a critically important part of our social integrity, of our social cohesion.' Turnbull, with his wife Lucy, established the Turnbull Foundation in 2001 to support grass-roots charities. Their first  donation of $93000 was to the Redfern Foundation for the purchase of two vans to be used by Aboriginal families. Turnbull ended his 'One Millions Donors' address saying, 'what you're really doing, is giving love practical form. And that is so important.' 
People
In April 2013, Turnbull was invited to participate in Kitchen Cabinet, a show created by political commentator Annabel Crabb, in which she visited the homes of politicians to talk with them and cook together. During the program, Turnbull demonstrated how to remove pomegranate seeds without getting juice on his clothes. Just after he became prime minister, Turnbull participated in Crabb's new television series Canberra Al Desko, in which politicians read their favourite letters from constituents. Turnbull read a letter from one of his constituents in Wentworth, a chef named Jevon. Jevon informed Turnbull that "I might have to swing my vote now that I've learnt how to get the seeds out of pomegranates using water. Thanks for that, made my day easier". A chuffed Turnbull remarked that 'sometimes in politics, you wonder whether you're being useful… that was certainly useful'. 
Sources
Annabel Crabb, Constituent Letter: Malcolm Turnbull, Canberra Al Desko, Series 1, Episode 3, 2015
Annabel Crabb, Stop at Nothing: The Life and Adventures of Malcolm Turnbull, Black Inc. Books, Melbourne, 2016 
Paddy Manning, Born to rule: The unauthorised biography of Malcolm Turnbull, Melbourne University Press, Carlton, 2015
David Mark, High profile Republican establishes charity foundation, The World Today, 14 March, 2001
Leigh Sales, PM and Government can provide leadership and confidence suggests Malcolm Turnbull, 7.30 Report, 21 September, 2015
Malcolm Turnbull, Every Dollar Given to Charity is A Dollar Wrapped In Love: Launch the One Million Donors Program, 6 June, 2014
Don Watson, Will the Real Malcolm Turnbull Please Stand Up, The Monthly, March, 2016