Paul Keating was a political gladiator and reflective 'big picture' man. For some, Keating was defined by his arrogance and vitriol. For others he was an inspirational figure, who was willing to challenge orthodoxy. 
Keating grew up in the Sydney suburb of Bankstown, and his father was a boilermaker and union official. He left De La Salle College to start work at 15 years of age for the Sydney County Council. At the same time, his father began his induction into the Labor Party, starting at the Bankstown branch. He met Jack Lang, controversial former premier of NSW, who became a mentor. In 1966, Keating became president of the Sydney Labor Youth Council and involved in union politics. He gained preselection for the seat of Blaxland in October 1968 and won it for Labor at the 1969 election. Keating became the Minister for the Northern Territory for a period of three weeks from October 1975. He was one of the few Labor members to hold his seat at the 1975 election. In 1979 he became the youngest president of the Labor Party in New South Wales. After Labor returned to power in 1983, Keating became Treasurer in the Hawke government. He worked closely with Hawke and together they undertook an ambitious program of deregulating the Australian economy. With typical bravado, Keating claimed 'he could play the economy like a violin'. Keating became prime minister in December 1991 after challenging Hawke a second time for the leadership. He lost office at the 1996 election, held responsible by the public for, as he put it, 'the recession we had to have'. In the end, instead of the Keating government's reforms, the voters were more focused on rising interest rates and unemployment.
Milestones
Superannuation Guarantee (Administration) Act

The Superannuation Guarantee Act requires employers to make contributions on behalf of their employees to a complying super fund, with contributions increasing over the following decade from 3% to 9%.

Mabo case

The Mabo case decision is handed down by the High Court ten years after the case began on 3 June 1992. It leads to the Native Title Act in 1993 which enables Indigenous Australians to claim rights to certain land because of their traditional laws and customs.  

Somalian involvement

Australian personnel arrive in Somalia on 14 September 1992 as part of a United Nations peacekeeping force with the aim of minimising the impact of civil war and famine in the country.  

Redfern Speech

On 10 December 1992 Keating delivers the Redfern speech that acknowledges profound injustice and disadvantage suffered by Australia's Indigenous people.  

Endangered Species Protection Act

The Endangered Species Protection Act is passed on 21 December 1992 providing for the protection of endangered species and the establishment of ecological communities. 

Mandela becomes President of South Africa

Nelson Mandela becomes President of South Africa after the first post-apartheid election on 1 January 1994. The Australian government had played an active role in the international sanctions policies against the apartheid regime.

Creative Nation

On 18 October 1994 the Creative Nation policy is announced. The program increases financial support for the arts and links it more directly to national economic prosperity. 

Transition to an Australian Republic

The timetable to establish a republic by 2001 is announced on 7 June 1995 in response to the recommendations of the Republic Advisory Committee.

William Deane appointed Governor-General

Sir William Deane, former High Court judge, is appointed as Australia's 22nd Governor-General on 16 February 1996.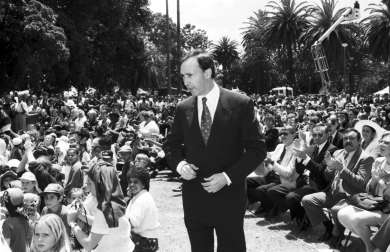 Pickett/Fairfax
Parliament
Keating used parliament as the arena to showcase his political mastery and rally his side. In Question Time, Keating deployed witty and belligerent insults with the aim of dominating opponents. Members of the opposition were at various times referred to as 'brain-damaged loopy criminals' and 'stupid mindless dullards'. John Hewson's performance as Liberal leader was described by Keating as 'like being flogged with a warm lettuce'. In February 1992, Keating released the One Nation economic plan that included income tax cuts and the promise to create 800000 new jobs to combat rising unemployment. The Australian National Training Act was passed to provide for a youth training wage and there was further superannuation measures, including increased contributions by employers. After an unexpected win in the March 1993 election, Keating proposed a republic which he hoped would be in place for the centenary of Federation in 2001. In June 1993, the Native Title Bill aimed to balance the rights of Indigenous Australians to native title with the need to protect pastoral and mining operations. Keating played a major role in pushing for the expansion of the Asia-Pacific Economic Forum. In December 1995, the Keating government signed a bilateral security agreement with Indonesia, following months of secret negotiations. 
Party
After Keating deposed Bob Hawke in December 1991, there was little retribution from those who had supported Hawke. This was partly because Keating had chosen to make few changes to the ministry. The party needed no reminding that when Keating had been on the backbench after his first challenge to Hawke, the government had been unable to score a hit against the Opposition's radical economic program 'Fightback'. Keating launched a savage attack on "Fightback' labelling it 'Crawlback' and on the Goods and Services (GST) tax, which was the centrepiece of the package. His stirring leadership on the issue galvanised the party behind him. Keating reversed the opinion poll slide and won a surprising victory in the 1993 election, declaring it 'one for the true believers' and the 'sweetest victory of all'. Keating saw off Alexander Downer, who had replaced John Hewson as opposition leader. This led to the return an old adversary, John Howard, on 30 January 1995. In March 1995, Sports Minister Ros Kelly was forced to resign over the 'sports rorts' affair, and Labor suffered a 16 per cent swing against it in the by-election for her seat of Canberra. This was soon followed by another minister, Carmen Lawrence, becoming embroiled in a Royal Commission in Western Australia. These issues, coupled with a faltering economy, weakened the appeal of the Labor Party in the lead up to the 1996 election.
Partnerships
On 3 November 1993, Keating announced the creation of a Task Force on Urban Design to complement the government's Better Cities Program. It was to be headed by John Mant, who had been a planning adviser to Gough Whitlam and Tom Uren, and had led an inquiry into the New South Wales Housing Department. Mant shared with Keating a passion for urban design and architecture. In commenting on the brief for the taskforce he said, 'Keating has a particular aversion to shopping malls, and he wants to know, if Paris can have a street life, why can't Bankstown?' Keating provided regular critiques on the quality of architecture in Australian capital cities. He lamented 'there was more to life than the quarter-acre block' offered by the conventional Australian suburb. The task force recommended that the National Capital Planning Authority (NCPA) be upgraded to oversee the various Commonwealth urban programs and that an Australia Prize in urban design be established. After leaving office, Keating continued to speak about architecture and urban planning, often returning to his original instructions to Mant for  'a bit of poetry in the souls of our town clerks and shire engineers.'      
People
After completing a visit to Great Britain in September 1993, Keating continued on to Ireland and made a sentimental journey to his great-great-grandfather John Keating's ancestral village of Tynagh in County Galway. Keating had kept an old wooden pencil case in his desk at the Lodge that was inscribed with 'Matthew Keating 1847'. The village of Tynagh usually consisted of about 300 people, and several houses had been painted in preparation for Keating's visit, along with an arrangement of traditional Irish dancing. Keating met with some 150 members of the Keating clan including his closest living Irish relative, 82 year-old Jim Keating. He was shown the 1840s brick schoolhouse where Keating family members had attended classes. Keating then delivered what was described as an emotion charged speech to about 3000 people. He spoke of the Irish diaspora and the huge contribution the Irish had made to Australian society. Keating reflected '…many families were broken and so many left, never to return, only to correspond by letter until basically they expired and dissipated.' He spoke not from notes, but linked together a 'sequence of thoughts and reflections', with some of the audience and his personal staff moved to tears. 
Sources
John Edwards, Keating: the inside story, Penguin Books Australia, Ringwood, 1996
Paul Keating, Engagement: Australia faces the Asia-Pacific, Macmillan, Sydney, 2000
David Love, Unfinished business: Paul Keating's interrupted revolution, Scribe Publications, Melbourne, 2008
Kerry O'Brien, Keating, Allen & Unwin, Crows Nest, 2015
Ross Peake, Irish eyes smile at local descendant made good, The Canberra Times, 22 September, 1993
Yvonne Preston, Tackling visual urban blight, The Canberra Times, 23 April, 1994
Don Watson, Recollections of a bleeding heart (10th anniversary edition), Random House Australia, North Sydney, 2011
The Canberra Times, Keating seeks beauty in the cities, 9 October, 1994