For many in the Liberal and National parties, Tony Abbott was a torch bearer for conservative values. His focus as prime minister was on undoing many of the former Labor government's policies and programs, which he had campaigned hard against during four years of opposition. As an integral part of his approach in government, he also used 'Captain's Picks' to announce and initiate action on matters close to his heart.
Tony Abbott was involved in student politics at university and won a Rhodes scholarship to study at Oxford. After working as a journalist, press secretary to Liberal leader John Hewson and Executive Director of Australians for a Constitutional Monarchy, Abbott was elected to the federal seat of Warringah in NSW in a by-election in 1994. Serving in the Howard government, Abbott took on several consecutive ministerial roles in employment and workplace relations and was then Minister for Health and Ageing (2003-2007) and Leader of the House (2001-2007). In the years of opposition that followed the Howard government, Abbott moved to shadow ministries relating to families, community services and Indigenous affairs. When the Liberal Party became seriously divided over the issue of responding to the Rudd government's proposed emissions trading scheme, Abbott emerged successful from a three way leadership ballot with Malcolm Turnbull and Joe Hockey. He led the Liberal Party to the election in 2010 but was not able to form a government when a hung parliament ensued. By 2013, Abbott led his party to a sweeping election victory. He held office as prime minister for just under two years, when Malcolm Turnbull successfully challenged to assume leadership of the Liberal Party again.
Milestones
Clean Energy Legislation (Carbon Tax Repeal Bill)

A package of legislation is passed on 17 July 2014 to remove the carbon pricing mechanism, and take action against businesses which do not pass on the savings.

National Day of Mourning for MH17 victims

A national memorial service is held on 6 August for the victims of Flight MH17, shot down over Ukraine on 17 July. The passengers included 38 Australians. 

G20 Summit in Brisbane

G20 heads of state and government meeet in Brisbane on 15-16 November 2014 to discuss issues including global economic recovery and financial reforms. 

China-Australia Free Trade Agreement

Australia and China sign a landmark free trade agreement on 17 June to secure better market access, increased two way investment and reduced import costs. The agreement enters into force on 20 December.

White Paper on Northern Australia

The Government releases a White Paper on Developing Northern Australia: Our North, Our Future. The paper outlines a plan to achieve a vision for the north by 2035 with an initial investment of $1.2 billion.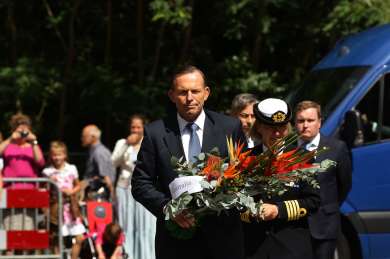 Kate Geraghty/Fairfax
Parliament
After achieving victory in the 2013 election, the Liberal-National Party coalition held a strong majority in the House of Representatives. The Senate proved a tougher proposition, with a cross bench of eight senators, and the support of at least six of these required for the government to pass legislation. The Abbott government managed to get its signature carbon tax repeal package through the parliament, but had much more mixed success with its first budget package in 2014, as key elements languished or had to be dropped. The uncertainty about whether the government could get its legislation through the Senate began to take its toll and prompt further scrutiny of the performance of the prime minister and treasurer Joe Hockey. Following a 'near death experience' leadership challenge in the Liberal party in February 2015, Abbott decided to replace 'father of the house' Phillip Ruddock as Chief Whip, in a move described as a measure to improve communication between the prime minister and the back bench.
Party
Tony Abbott became prime minister promising Australians relief from the political instability of the Rudd-Gillard years. This proved difficult to deliver. All but three of Abbott's shadow ministry made the transition to the Cabinet, and close ally Bronwyn Bishop took up the position of Speaker of the House of Representatives. What quickly became apparent was that the high degree of control exercised by Abbott as opposition leader was not going to be adapted to the much greater demands of government. Ministers became uncomfortable with the constraints on them and backbenchers looked for more consultation on policy, not the least in relation to Abbott's more controversial and expensive initiatives. A turning point was the decision by the prime minister in December 2014 to send Trade Minister Andrew Robb to 'chaperone' Foreign Minister Julie Bishop at an international climate change summit in Peru. Less than a  year later, Julie Bishop would play her role in the fourth change of Liberal leadership since 2007.
Partnerships
Some of Abbott's most important partnerships in office were with women. While there were few women in the Abbott ministries, women held key positions in the prime minister's own office. The partnership which attracted most attention was his enduring relationship with his Chief of Staff, Peta Credlin, whom he described as 'the fiercest political warrior.' Credlin had worked very closely with Abbott during the years of opposition and was credited by him for much of the turnaround in his political fortunes from 2007. In government, Credlin took on an unprecedented range of tasks, and their alliance withstood sustained pressure, including from within the government,  until Abbott lost the leadership.
People
Throughout his life, Tony Abbott has taken an interest in community service, and he continued to dedicate as much time as the office allowed to such pursuits while prime minister. Around New South Wales, he was often observed working as a volunteer firefighter during the critical bushfire seasons and, in March 2015, received an award for ten years of service to the NSW Rural Fire Service. Local member Jonathan O'Dea MP congratulated all recipients of the awards, but took a moment to acknowledge the prime minister in particular saying that 'he sets an example, as do all of you [volunteer firefighters], for the rest of Australia.'
Sources
Norman Abjorensen, The Manner of Their Going: Prime Ministerial Exits from Lyne to Abbott, Australian Scholarly Publishing, 2015
Waleed Aly, 'Pulling his punches', The Monthly, July 2013
Tony Abbott, Battlelines, Melbourne University Press, Carlton, 2009
Phillip Coorey, 'Julie Bishop goes bananas over Andrew Robb climate chaperone', Australian Financial Review, 4 December 2014
David Marr, Political Animal: The Making of Tony Abbott, Quarterly Essay, Issue 47, 2012
Niki Savva, The Road to Ruin, Scribe, Brunswick VIC, 2016
Lisa Visentin, 'Tony Abbott receives award for 10 years of actual fire-fighting', Sydney Morning Herald, 8 March 2015