John Curtin united his party and led it to power, and united the nation in war and led it to victory. Curtin possessed a great ability to gauge the public mood, to sense how much to push for an even greater effort to support the war. As an often lonely figure, weighed down by the burden of the conflict, Curtin conveyed to Australians a shared responsibility for the outcome.  
Curtin was born in Creswick, the son of a policeman and, after several moves, his family eventually settled in Melbourne. After leaving school he worked as a copy boy for The Age newspaper and this gave him a taste for journalism. He found employment with the Titanium Manufacturing Company and joined the union. Curtin was attracted to politics by the oratory of Victorian Labor politician Frank Anstey. He joined the Victorian Socialist Party and became secretary of the Victorian Timber Workers' Union from 1911 to 1914. Curtin became an outspoken opponent of conscription for the Australian Workers' Union. In 1917 he accepted the role of editor of the Westralian Worker and moved to Perth. After an unsuccessful attempt to enter Parliament in 1924, Curtin was elected to the seat of Fremantle in 1928, but  lost his seat when the Scullin government was defeated at the 1931 election. In 1934 Curtin regained Fremantle and, in 1935, became Labor leader, replacing James Scullin. Curtin became prime minister of a minority government on 7 October 1941, dependent on the support of two independents. He only secured an outright majority after the 1943 election. Curtin's punishing work schedule throughout the war took a great toll on his health and, in November 1944, he suffered a heart attack after returning from London. He died in office on 5 July 1945. His friend and political opponent Paul Hasluck wrote 'he held back nothing from his service to the nation.' 
Milestones
Daylight saving time

The introduction of daylight saving time occurs across Australia on 1 January 1942 under National Security Regulations. It is used as a means to conserve fuel and electricity. 

Bombing of Darwin

On 19 February 1942 Darwin is attacked by Japanese aircraft, just four days after the fall of Singapore to Japanese forces.

General Douglas MacArthur

General Douglas MacArthur is announced as the Supreme Commander of the South-West Pacfic area. American troops were already based in Australia when he arrived on 18 March 1942 to establish his headquarters.

Japanese submarines enter Sydney Harbour

A torpedo fired from a Japanese midget submarine strikes the HMAS Kuttabul on 31 May 1942, with the death of 19 naval personnel. Two other midget submarines are captured off the Australian coast.

Federal control over income tax

The Income Tax (Wartime Arrangements) Act is passed on 7 June 1942, enabling the Commonwealth to assume control from the States of the power to levy income tax.

Post-war planning

The Department of Post-War Reconstruction is established on 24 December 1942, with Dr H.C Coombs appointed as Director-General in January 1943.

Diplomatic links with the Soviet Union

An embassy for the Soviet Union is established in Canberra on 3 March 1943, followed by the posting of an Australian diplomat to Moscow.

First women elected to Parliament

The Labor Party's Dorothy Tangney arrives in the Senate and the United Australia Party's Enid Lyons arrives in the House of Representatives, following their electoral success in the federal election of 1943.

Agreement between Australia and New Zealand (ANZAC Pact)

On 21 January 1944, the Australian and New Zealand governments sign an agreement to consult and work together on security and defence, the welfare of all Pacific peoples and the status of post-war territories.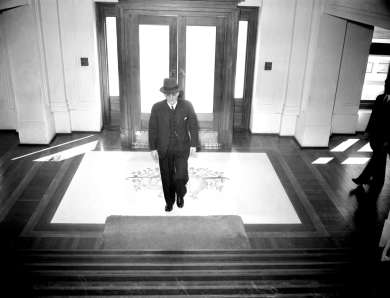 Fairfax Syndication
Parliament
On taking office in October 1941, Curtin announced that the task for Labor was to win the war and, until that was achieved, social reform would be deferred. Curtin established the Allied Works Council in February 1942 to arrange for the construction of major capital works essential for defence. Additional national security regulations were passed to increase the emergency defence powers of the government. State governments were convinced to surrender their power to raise income taxes to allow Commonwealth control of revenue for the war effort. Curtin's decisive victory in the 1943 election resulted in a substantial parliamentary majority in both chambers and, with the imminent Japanese threat over, the focus became post-war reconstruction. A widows' pension scheme was introduced and the goal of restoring full employment was accorded priority. In February 1944 the Coal Production Bill was introduced to deal with long term industrial unrest that threatened coal supplies. Curtin initiated constitutional amendments in August 1944. These became known as the Fourteen Powers referendum and sought extended Commonwealth power over production and distribution, prices, monopolies, national infrastructure, national health and family allowances. The referendum proposals were rejected by the public. 
Party
Curtin assumed the Labor Party leadership in October 1933 and set out to unify and heal the wounds that had crippled the party since the defection of Joe Lyons. The onset of the Second World War brought tensions to the surface again, with divergent views including pacifist, isolationist, socialist and communist. Curtin constantly 'talked, wrote and persuaded people' to gain party consent before embarking on any new action. It was recalled by one colleague that he 'could judge the temper of his associates and keep them all running smoothly together. He could smell plotters and rebels and had wonderful timing.' In November 1942, Curtin had to make one of his most difficult decisions, overturning his lifelong opposition to conscription by allowing limited overseas service for Australian conscripts in New Guinea. When Cabinet discussed the matter Eddie Ward was reported to have said "You're putting young men into the slaughterhouse, although thirty years ago you would not go into it yourself.'  Arthur Calwell also strongly attacked Curtin over the conscription issue, with Curtin inviting caucus to dismiss him. Curtin managed to broker the policy through the party executive and caucus, but he was never entirely comfortable with it. 
Partnerships
On 14 March 1941, John Curtin met Tatsuo Kawai at a reception held in his honour, as the first Japanese ambassador to Australia. It was to be the beginning of an unlikely and politically risky relationship for both men. With Australia involved in conflict in Europe and North Africa, Curtin did not believe the country needed also to be engaged with an enemy in the Pacific region. Curtin left a strong impression, with Kawai writing 'And in this world, in a strange country, this politician of such distinctive character appears.' In July 1941, Kawai was invited by Curtin to meet his family at Cottesloe in Perth. Curtin was condemned by both political opponents and the press for hosting a representative of Japan. The personal papers of Kawai reveal that the two discussed the possibility of a peace arrangement between Australia and Japan. After Curtin became prime minister in October 1941 it was clear that events could not be altered. Only ten days before the Japanese attack on Pearl Harbour, Kawai met Curtin at Parliament House and responded to Curtin's concern about war saying 'I'm afraid the momentum is too great.' Before returning to Japan in 1942 Kawai sent Curtin a simple signed farewell card with the letters 'P.P.C.' standing for 'presenting parting compliments.' In 1959, while visiting Melbourne as a Japanese trade fair representative Kawai called on Elsie Curtin and visited Curtin's grave.   
People
During a two week period in October 1942, a team of 20 Brisbane women sat at long tables 'enveloping copies of the message' that Curtin was sending to every Australian home appealing for support of the War and Austerity Loan. It was up to the Women's Voluntary National Register group to circulate the letters to 320000 Queensland homes. A shift from 10am to 4pm would complete 500 letters at a time. The women, along with running their own households, had volunteered several days a week for 'patriotic activities' including making camouflage netting and Red Cross service. Mrs M. Kluver believed her experience in the book-binding industry made her 'one of the most deft users of the roller sticker.' Curtin opened the Austerity Loan in November 1942, and the government wanted to raise 100 million pounds and attract 500000 subscribers. The loans campaign cleverly harnessed interstate rivalry, with Randwick in Sydney squaring off against Caulfield in Melbourne to see who could raise the most funds. The campaigns gave Curtin the opportunity to appeal directly to the public. He requested that, 'Australia must come first. This must be everybody's loan. Australia counts upon you.' 
Sources
David Black, In His Own Words: John Curtin's Speeches and Writings, Paradigm Books, Curtin University, Perth, 1995
James Curran, Curtin's gift, Cambridge University Press, Port Melbourne, 2011
David Day, John Curtin: A life, Harper Collins, Sydney, 1999
Norman E. Lee, John Curtin: Saviour of Australia, Longman Cheshire, Melbourne, 1983 
Janet Merkur, John Curtin, Cambridge University Press, Melbourne, 1999
Lloyd Ross, John Curtin: a biography, Macmillan, South Melbourne, 1977
Lloyd Ross, John Curtin for Labor and for Australia, Australian National University Press, Canberra, 1971
Geoffrey Searle, Curtin, John (1885–1945), Australian Dictionary of Biography, National Centre of Biography, Australian National University, published first in hardcopy 1988
Bob Wurth, Curtin's Hand of Friendship, Griffith Review, Edition 9, Up North, Aug, 2006 
Bob Wurth, Menzies, Fadden, Curtin and the Japanese Envoy, John Curtin Prime Ministerial Library, 2009
Sunday Mail, Housewives Help Austerity Loan, 11 October, 1942