Good for the Soul: John Curtin's Life with Poetry
Poetry was a lifelong obsession for my great-grandfather John Curtin. As a primary school student in regional Victoria, he recited Sir Walter Scott's 'Marmion' for a school production and familiarised himself with Shakespeare, Milton, Wordsworth, Byron, Tennyson and other poets prescribed in the Royals Readers to boys and girls across the British Empire. The 1890s Depression forced Curtin's parents and his three siblings to permanently resettle in the Melbourne suburb of Brunswick. Curtin was forced to leave school at thirteen to find work, but rather than limiting his access to poetry, this change propelled him into the company of literary figures such as Norman Lindsay (who employed him as an office boy for the Rambler, a satirical magazine) and political mentors like his local MP Frank Anstey, who wielded poetry in his speeches and taught Curtin to do this.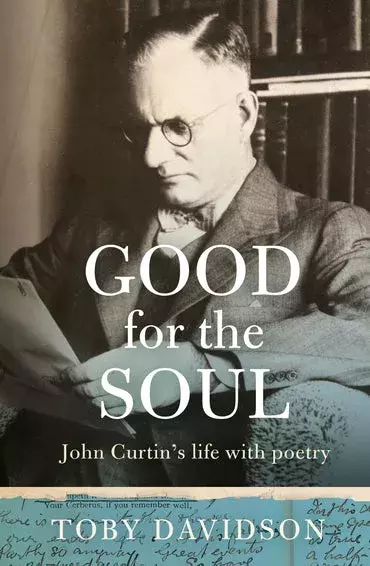 In 1906, when Curtin was twenty-one and working as an accounts clerk, he joined the Victorian Socialist Party (VSP). This was created by British socialist Tom Mann, who espoused the importance of radical verses by Percy Shelley, Walt Whitman, William Morris and their Australian equivalents like fellow VSP member Bernard O'Dowd, who attempted to emulate Whitman as Australia's prophetic 'poet of democracy'. Now, with the benefit of the mass-digitisation of Curtin-related documents at the John Curtin Prime Ministerial Library (JCPML) at Curtin University, Hansard, the National Archives and the National Library's Trove database, these links are discoverable through word-search technology. Voluminous documents can be scoured for words like 'poet', 'poetic', or specific names like 'William Shakespeare' and the results laid out chronologically to create the backbone for Curtin's literary biography. This reveals not just what he was reading or quoting, and when, but why— what it all meant to him.
The Curtin family library, held at the JCPML, contains further physical evidence, for example the extensive marginalia Curtin scrawled in his copy of Dante's Inferno. This is the subject of 'Dante as Political Mentor', one of the fourteen chapters of Good for the Soul: John Curtin's Life with Poetry. Curtin's tastes in British, American, Irish and Australian poets with a small cohort of translated Persian (Omar Khayyam) and European poets (Victor Hugo, Goethe, Dante) can be seen across the Curtin family library's 70 poetry titles. From 1917, when Curtin resettled in Perth with his new wife (and fellow bibliophile) Elsie Needham to take up the editorship of the Westralian Worker, their book-lined loungeroom was the most impressive room of their house, a symbol of Curtin's growing reputation as a Labor intellectual.
Poetry and the Wartime PM
Most Australians had little knowledge of this side of Curtin until he became Prime Minister on October 7, 1941. Those who knew him well, or had seen his 'Our Bookshelf' columns or poems he selected for the Westralian Worker (including a few of his own), were left in little doubt. Journalists and keen political watchers had noticed his abilities as an erudite as well as economic thinker during his first stint as the Member for Fremantle (1928-31) and his subsequent return and elevation to the Labor Party leadership in 1935. Politicians who spouted poetry in the 1930s could be found on both sides of politics. What made Curtin unusual was how far he took his advocacy for poetry, both in public and in private.
Once the conservative Fadden government collapsed and Curtin became Prime Minister, his life with poetry spilled out into the public domain like never before. Journalists dispatched to the Curtin residence in Cottesloe to profile the new Australian leader remarked upon his vocabulary and library, but Curtin surprised them by adding 'For twenty years it has been my habit on Sunday nights to devote at least an hour to reading poetry … I read them all, from Chaucer on, but my favourite is Milton … Every man should read poetry—for the good of his soul.' Only two months after this, the Japanese attack on Pearl Harbor forced Curtin to declare war on Japan. Australians gathered around their radios heard Curtin's grim broadcast, beginning 'Men and women of Australia, we are at war with Japan'. The steely fourteen-minute speech (available on YouTube) ended with this stanza from radical English poet Algernon Swinburne's 'The Eve of Revolution':
Come forth, be born and give
Thou that hast help to give,
And light to make man's day of manhood fair;
With flight outflying the sphered sun,
Hasten thine hour
And halt not til thy work be done.
Weeks later, on Boxing Day 1941, the national newspapers ran 'The Task Ahead', one of the most famous documents in the history of Australian foreign policy, in which Curtin declared 'I make it quite clear that Australia look to America, free of any pangs as to our traditional links or kinship with the United Kingdom'. This statement began with an epigram from Bernard O'Dowd's 'Dawnward?', an Australian poem for the assertion of an Australian destiny beyond the confines of the Commonwealth.
When US General Douglas MacArthur fled the Philippines for Australia in March 1942, his arrival in Australia was perceived as almost messianic. Many wondered at the close bond which developed between the ex-radical Curtin and MacArthur, a Republican. Yet this bond was partly literary. Curtin and MacArthur both loved poetry, and Curtin was deeply read in American poetry from Whitman to Longfellow to Ella Wheeler Wilcox. They discussed American poet and philosopher Emerson. Curtin added more bible verses and religious allusions to his public speeches to appeal to an American audience.
As the war grew and progressed, Curtin quoted and encouraged the publication of 'soldier's poems' as well as poetry by those on the homefront. The National Archives hold a swathe of poems that members of the public sent Curtin for inspiration, relaxation or even propaganda. Curtin pushed for the expansion of the Commonwealth literary fund, pensions for writers and the future Australian National University. His friend Dame Mary Gilmore dedicated poems to him. After he died in office in 1945, she wrote 'For his epitaph, three words suffice: he saved Australia.' While conducting the war, Curtin was also striving for a fairer, more ambitious nation built upon brains as well as brawn. As he told guests gathered in Sydney for Gilmore's 77th birthday in August 1942, three months after the city had been attacked by Japanese submarines: 'Australia does not consist of the buildings around us … It consists basically of human beings, not only their physical presence, but their mental capacities and, I believe, their spiritual purpose.
How shall they express their individualities? Through the men of letters, the poets, thinkers, dreamers, artists and musicians. Without the collaboration of these, this country would be but a material place, well fed, perhaps, but not happy or enduring.' This stirring call still resounds today.
Good for the Soul: John Curtin's Life with Poetry, University of Western Australia Publishing, Crawley, 2021